Did Troy Davis death-penalty case expose flaws in 'executive clemency'?
The Georgia Board of Pardons and Paroles stood firmly behind the 1991 murder conviction that put Troy Davis on death row. But the many doubts in the case have raised questions about 'executive clemency' as a fail-safe for the death penalty.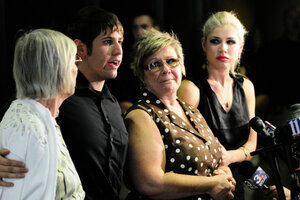 David Tulis/AP
Unreliable eyewitnesses, the impact of race on a jury in the Deep South, the difficulty of proving innocence once convicted: Troy Davis's long journey through the US judicial system has hit nearly every sensitive button in America's complex relationship with the death penalty.
On Tuesday, the Georgia Board of Pardons and Paroles declined a final clemency bid by Mr. Davis, 42, who has spent 20 years on death row for the murder of an off-duty Savannah, Ga., police officer in 1989. The board reaffirmed the validity of the original conviction by a jury of his peers. His execution by lethal injection is scheduled for 7 p.m. Wednesday.
But to many legal experts, doubts raised about Davis's guilt after his conviction raise new questions about the Supreme Court's determination that so-called "executive clemency" – the power of a governor or review board to commute a death row sentence – is an adequate fail-safe for assessing death-row innocence claims.
"If a case like this doesn't result in clemency, which is a discretionary process that calls a halt to an execution based on doubt surrounding the integrity of the verdict, then it suggests that clemency as a traditional fail-safe is not adequate," says James Acker, a criminologist at SUNY-Albany. "The Davis case raises doubts about the discretionary clemency process and ultimately raises doubts about whether the legal system can tolerate this potential error in allowing a person to be executed."
---