Troy Davis execution: Did the death penalty deliver justice?
For his supporters, the execution of Troy Davis marked a grave injustice and showed the death penalty at its worst. But others found their faith in the justice system reaffirmed by the fact that the Davis verdict stood after an abundance of case reviews.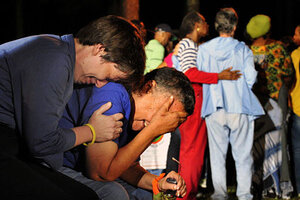 Stephen Morton/AP
A last-ditch appeal to the Supreme Court pushed back Troy Davis's execution by several hours, but in the end, Mr. Davis died by lethal injection Wednesday night in a prison in Jackson, Ga.
"I am innocent," were his last words to the family of Mark MacPhail. "I did not have a gun."
Mr. Davis was convicted of the 1989 murder of Mr. MacPhail, a Savannah, Ga,. police officer.
For thousands around the world, Mr. Davis's death marked a grave injustice, given vexing questions and new doubts about his guilt.
But while many saw the execution as symbolic of a fallible justice system, and an immoral punishment, others found their faith in the system reaffirmed by an abundance of court and executive reviews that, time after time, let the verdict against Davis stand.
The Davis case is but one in a long series of death penalty cases that push individual states to debate the morality, legality, and efficacy of the death penalty.
This week alone, the US Supreme Court ordered stays for two men in Texas scheduled to be executed, while a third, Lawrence Brewer, was executed Wednesday night for the dragging death of James Byrd near Jasper, Texas, in 1998. Alabama has an execution scheduled Thursday.
---