Troy Davis execution protest confronts support for death penalty
While the Troy Davis execution may not be a game-changer for the death penalty, it has become part of a growing conversation about ensuring that innocent people aren't killed or die in prison.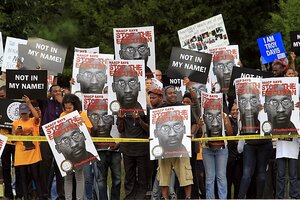 Newscom
The execution Wednesday of Troy Davis, a Georgia death row inmate who convinced thousands across the world of his innocence, capped a sobering week of death penalty debate likely to play into shifting attitudes in the US over the ultimate sanction.
The execution, also on Wednesday, in Texas of Lawrence Brewer, convicted of dragging a black man to death in 1998, led to the elimination of the execution day "last meal" in Texas after Mr. Brewer ordered an elegant feast that he declined to eat.
Also this week, the US Supreme Court stayed the executions of two other Texas men in order to further review their innocence claims, while Alabama went forward with the 36th execution of the year in the US on Thursday, leading to the death of Derrick Mason for a 1994 murder.
RECOMMENDED: Death penalty: Top 5 countries to execute the most people
---