Michael Jackson's security guard, wooed by tabloids, finally speaks at trial
At the Conrad Murray trial Thursday, security guard Alberto Alvarez provided the most detailed public account yet of the frantic scene in the bedroom the day Michael Jackson died.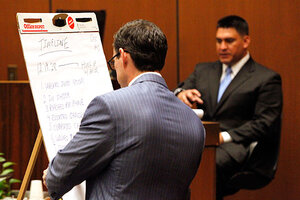 Al Seib/AP
A member of Michael Jackson's security staff testified on Thursday that Conrad Murray asked him to help gather up drug vials and remove a drip bag from an IV stand before a 911 call was made to summon emergency medical personnel.
At the time, Mr. Jackson was lying face up in bed with his eyes and mouth open, palms facing upward, and showing no visible signs of life, the witness said.
The new revelations came during dramatic testimony on the third day of the involuntary manslaughter trial of the pop legend's personal physician at the Los Angeles County Superior Court.
The testimony is important because it suggests that Dr. Murray may have been more concerned with protecting himself than in acting quickly to do everything possible to try to save Jackson's life.
Alberto Alvarez, the security guard, said he was called to the scene where he saw Murray performing chest compressions on Jackson, who was not breathing and was unresponsive.
"He was laying on his back with his hands extended out to his side with palms up," Mr. Alvarez said. "His eyes were slightly open and his mouth was open."
"When I came into the room, [Murray] said, 'Alberto, hurry, we have to get him to a hospital, we have to get an ambulance,' " Alvarez told the jury.
Almost immediately, two of Jackson's children, daughter, Paris, and son, Prince, entered the room. "Paris screamed out, 'Daddy,' " and began crying, Alvarez said.
Murray told the security guard: "Don't let them see their dad like this."
The scene in Jackson's bedroom
The testimony provided the most detailed public account yet of the frantic scene in the bedroom of Jackson's Los Angeles mansion on June 25, 2009, the day he died.
---