Supreme Court justices find government line in church-state case 'amazing'
The Supreme Court hears arguments in the case of a women who says she was discriminated against when she was fired from a religious school. The school claims First Amendment protections, but government lawyers are suggesting church-state concerns don't apply.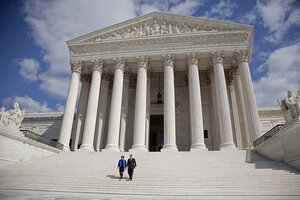 Evan Vucci/AP/FILE
In an important test of the boundaries of the separation of church and state, the US Supreme Court on Wednesday heard arguments in a case examining whether a parochial school teacher may be barred from filing a discrimination lawsuit against her employer when the suit might entangle government in matters of religious faith.
The high court is being asked to decide whether Cheryl Perich and the Equal Employment Opportunity Commission (EEOC) may sue the Hosanna-Tabor Evangelical Lutheran Church and School in Redford, Mich., for allegedly violating the Americans with Disabilities Act.
The school argues that such a suit is barred under a First Amendment doctrine that recognizes a "ministerial exception" from such litigation because it would require judges to interfere in the pastoral and religious mission of the school.
Lawyers for the EEOC and for the teacher say Ms. Perich was fired in retaliation for filing a discrimination lawsuit against the school. They say there is no "ministerial exception" that would allow religious organizations to fire with impunity an employee whose job primarily involves teaching secular subjects to her students.
---