Showdown in California over medical marijuana, as feds crack down
Four US Attorneys in California said Friday they are targeting growers and distributors who use California's medical marijuana law as a cover to engage in illegal drug trafficking.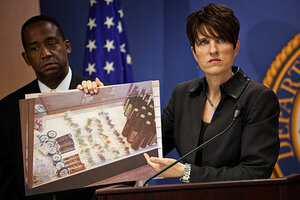 Max Whittaker/Reuters
Reefer wars are reigniting in California, and the US Justice Department is leading the charge.
Four US Attorneys based in California said Friday they will step up prosecution of marijuana growers and pot dispensaries suspected of drug trafficking outside the confines of the state's medical marijuana law.
Production and sale of marijuana are federal crimes, but the Obama administration said two years ago that it would not go after patients with marijuana prescriptions or dispensaries in states where marijuana is legal for medicinal use. California and 15 other states have such laws.
The US prosecutors, though, say the marijuana industry in California has flourished far beyond that special consideration and is engaged in illicit activities, including sales across state lines. They call it an industrial-scale operation that uses California's medical marijuana law as a cover for distributing and selling pot to more than just people with medical need.
At a press conference Friday at the federal courthouse in Sacramento, four US Attorneys outlined a new enforcement effort that will take effect statewide. The three key components are:
• Pursue civil lawsuits to seize property involved in drug trafficking.
• Send warning letters to owners and lienholders of properties where illegal marijuana sales are suspected of taking place.
---