What did Conrad Murray tell police after Michael Jackson's death?
The prosecution in the Conrad Murray trial played a tape of the statement Murray made to police two days after Michael Jackson died. This was the first time it has been heard in public.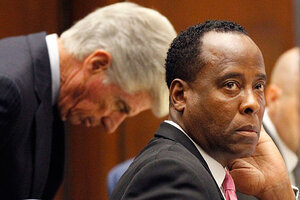 Mario Anzuoni/AP
Jurors at the trial of Michael Jackson's personal physician heard portions of a dramatic tape recording on Friday of Conrad Murray's first statement to police, given two days after the pop legend died of an overdose of the powerful anesthetic propofol.
The statement, introduced as evidence by prosecutors, has never before been released to the public. It provides Dr. Murray's moment-by-moment account of Mr. Jackson's final hours.
Murray gave the statement with his lawyers present before toxicology tests showed that Jackson died of an overdose. After those results, Murray emerged as a suspect in Jackson's death.
Murray admitted that in an attempt to help Jackson sleep he gave intravenous doses of two sedatives and propofol from 1 a.m. to about 11 a.m. on June 25, 2009.
The doctor said he had been treating Jackson's chronic insomnia for more than two months by giving him nightly doses of propofol. He said he was worried that Jackson had developed a dependency, and he was trying to wean him from relying on the anesthetic.
"Three days before his death I started to wean Mr. Jackson from propofol," Murray told the detectives. "I told him I wanted him to assume a more natural pattern of sleep."
It didn't work. Jackson was under intense pressure from his concert promoters – and ultimately his fans – to deliver spectacular performances in rehearsals and eventually in London. As the pressure intensified, so did Jackson's insomnia.
It all came to a head at about 10:50 a.m. on June 25, 2009.
The crucial few hours
Jackson had been complaining through the early morning hours of his inability to fall asleep. "All the time he complained that if he could not perform, he would have to cancel rehearsal," Murray said. "It would not satisfy his fans if he was not rested well. There was a lot of pressure there."
---