Can right to privacy bar a strip search in jail? Supreme Court hears case.
A motorist jailed for a minor offense in 2005 says two New Jersey jails violated his privacy rights by subjecting him to a strip search. The jails told the Supreme Court that security justifies the practice.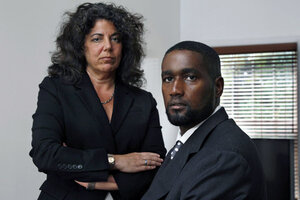 Mel Evans/AP
Members of the US Supreme Court were asked on Wednesday to declare for the first time that Americans' constitutional right to privacy prohibits a strip search if they are sent to jail for a minor offense.
In an important case exploring the scope of Fourth Amendment privacy rights, the justices must decide whether two New Jersey jails violated the rights of a motorist detained in 2005 for a minor infraction.
The motorist was twice ordered to remove his clothing to facilitate close inspection of the most private parts of his body.
"This is a very significant intrusion on individual privacy and individual dignity," Thomas Goldstein, a lawyer for the motorist, told the justices.
Mr. Goldstein urged the high court to find that strip searches of those accused of relatively minor offenses must first be justified by a reasonable, individualized suspicion that the person was concealing a weapon or contraband.
No discernible five-member voting bloc among the justices emerged during the hour-long argument.
Washington lawyer Carter Phillips, representing the jails, said detainees in a jail enjoy no reasonable expectation of privacy against being viewed while naked in a shower.
He said similar visual observations by jail guards during the detainee intake process also do not violate Fourth Amendment privacy protections.
The justices explored the many gradations of strip searches. The most intrusive involves a physical check to ensure no contraband is concealed in a body cavity. That check requires individualized suspicion, Mr. Phillips said.
But the case of the two jails and the motorist involved no physical contact, only visual inspection.
---