With guilty plea, underwear bomber cuts short intriguing terror trial
The trial of Umar Farouk Abdulmutallab, the so-called underwear bomber, could have shed light on Anwar al-Awlaki and several potentially significant pretrial rulings. But he pleaded guilty.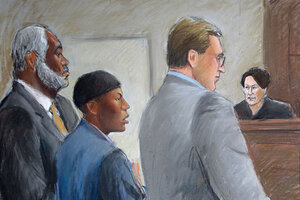 Jerry Lemenu/AP
A Nigerian man accused of concealing a bomb in his underwear to destroy a commercial jetliner on Christmas Day 2009 pleaded guilty to all eight counts in his indictment on Wednesday.
The surprise move came on what would have been the second day of his high-profile terrorism trial in federal court in Detroit.
Umar Farouk Abdulmutallab was facing charges that he plotted with Al Qaeda to carry out a martyrdom mission by blowing up a US airliner with 292 people on board as it approached Detroit.
The bomb caught fire but did not explode.
Mr. Abdulmutallab, acting against the advice of his appointed stand-by counsel, decided to end the trial as it was just beginning. He read a statement in open court admitting responsibility for each of the charges filed against him, including conspiracy to commit an act of terrorism, attempting to destroy a civil aircraft, and attempted murder.
While acknowledging guilt under US law, he emphasized that his actions were undertaken as part of a perceived religious obligation in Islam to protect fellow Muslims from attack.
He warned that a "great calamity" would befall the United States if it didn't stop killing innocent Muslims and stop supporting those who kill innocent Muslims.
"If you laugh at us now, we will laugh at you later in this life and on the day of judgment," Abdulmutallab told the court. "Our final call is all praise to Allah, the lord of the universe. Allahu Akbar [God is great]."
---