Appeals court curtails Alabama immigration law, for now
A US appeals court temporarily blocked two requirements of the tough Alabama immigration law: one that schools check new students' immigration status and one that immigrants carry special ID.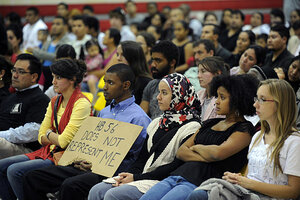 Tamika Moore//The Birmingham News/AP
Two of the most controversial aspects of Alabama's stringent new immigration law were temporarily blocked Friday by the 11th US Circuit Court of Appeals.
For now, public schools are no longer required to check the immigration status of students enrolling for the first time in the state. And immigrants cannot be required to carry documents that prove their legal status.
The appeals court is expected to hear full arguments challenging the law in late November. But the challengers, including the US Department of Justice and a coalition of civil rights groups, are encouraged by Friday's injunction because it indicates they may have a strong chance of prevailing on those two aspects of Alabama's law, at least.
The ins and outs of the appeals process, however, are not likely to have much practical impact on families who have already fled schools, or fled the state altogether, out of fears about how the law will be enforced.
News reports indicate that hundreds of Latino students were absent from school earlier this month after a lower-court judge ruled that the school immigration checks could go forward. Other aspects of Alabama's law also appear to have scared away many agricultural workers.
It had "a strong chilling effect in terms of parents being willing to enroll their children in schools," says Shiu-Ming Cheer, an attorney at the National Immigration Law Center, one of the groups that challenged the Alabama law.
At Crossville Elementary School, with a 65 percent Hispanic population, about 200 of the 900 students didn't show up for school when the law first went into effect, says Principal Ed Burke.
---