Free speech or just a lie? Supreme Court takes case on Medal of Honor claim.
The Supreme Court will take the case of a man who lied about receiving the Congressional Medal of Honor. The question is whether the US can punish him for false statements about his military service.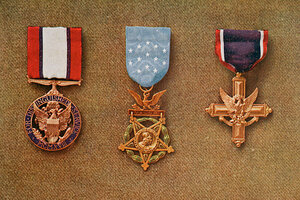 Design Pics/Newscom/File
The US Supreme Court on Monday agreed to take up a case examining whether Americans have a free speech right to lie about having been awarded the Congressional Medal of Honor.
At issue in the case is to what extent the government may ban and punish false statements of fact concerning someone's military service.
In 2006, Congress passed the Stolen Valor Act, which makes it a crime to falsely represent, verbally or in writing, to have been awarded a military decoration. Offenders face up to a year in prison for falsely claiming receipt of the military's most significant honors, including the Medal of Honor.
The issue arose in the case of an elected member of a water district board in southern California. In 2007, board member Xavier Alvarez identified himself at a public meeting as a retired US Marine who had been wounded in combat many times and had even received the Congressional Medal of Honor.
"I'm a retired Marine of 25 years. I retired in the year 2001," Mr. Alvarez said at a board meeting. "Back in 1987, I was awarded the Congressional Medal of Honor. I got wounded many times by the same guy. I'm still around."
None of Alvarez's claims was true, except his last claim that he was still around. He never served in the Marine Corps or any branch of the military, was never wounded in combat, and has never received a medal of any kind, let alone the nation's highest military award – the Medal of Honor.
After FBI agents obtained a tape recording of the meeting, federal prosecutors charged Alvarez with two counts of violating the Stolen Valor Act.
---