With proper treatment, Michael Jackson would be alive, expert says
An expert witness for the prosecution said Conrad Murray, the doctor attending Michael Jackson, committed several egregious errors the day the pop star died.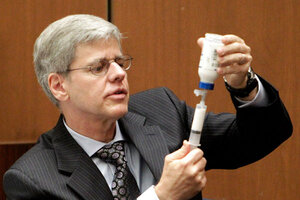 Reed Saxon/AP
Pop star Michael Jackson would be alive and completely uninjured had his personal physician been properly trained and equipped to administer the anesthetic propofol, an expert in anesthesiology testified on Wednesday.
Steven Shafer told the jury that Conrad Murray, Mr. Jackson's personal doctor, committed 17 egregious violations of the standard of care for patients that contributed to Jackson's death in June 2009.
Among the violations was that Dr. Murray waited 20 minutes before calling 911.
"I almost don't know what to say, that is so completely and utterly inexcusable," Dr. Shafer said. "A physician would not do that."
"It is almost impossible that Michael Jackson could have been revived," Shafer said, given the 20-minute delay before calling paramedics.
Had Murray called 911 immediately, Shafer said, Jackson would have likely survived the ordeal but with significant brain damage.
In contrast, had Murray been properly equipped with standard resuscitative devices and also called 911 promptly, "Michael Jackson would be alive and uninjured," Shafer told the jury.
His testimony at the Los Angeles County Courthouse came on the 13th day of Murray's trial on charges that he administered a fatal dose of propofol and other sedatives to Jackson in an attempt to treat the pop legend's chronic insomnia.
Murray has pleaded not guilty. Defense lawyers suggest Jackson may have administered the fatal dose himself in a desperate attempt to fall asleep.
Shafer, an expert in anesthesiology at Columbia University Medical Center, attacked nearly every aspect of Murray's treatment and his frantic but unsuccessful efforts to revive Jackson after he stopped breathing.
---