Michael Jackson: Defense of Dr. Conrad Murray stumbles at the start
Score one for the prosecution. A former physician for Michael Jackson, called as a defense witness, says he would "never" have administered propofol at a patient's home as sleep medicine.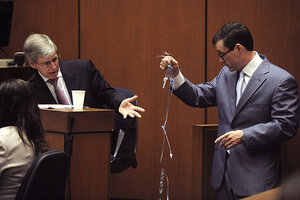 Paul Buck/AP
Lawyers defending Michael Jackson's personal physician sought Monday to poke holes in the prosecution's case in the month-long manslaughter trial of Dr. Conrad Murray.
But the effort seemed to falter badly when a former physician for Mr. Jackson – called as a defense witness – testified that he would never, for any price, administer an intravenous sedative like propofol at a patient's home as sleep medicine.
"Did you ever give Michael Jackson propofol," Deputy District Attorney David Walgren asked Dr. Allan Metzger.
"Never," Dr. Metger answered.
Was there any amount of money that would convince Dr. Metzger to administer propofol to Jackson in his house, Mr. Walgren asked.
"No," the doctor said emphatically.
Rather than helping the defense, Metzger's testimony appeared to significantly bolster the involuntary manslaughter case against Murray.
Murray is charged with giving Jackson a lethal dose of propofol on June 25, 2009 in an effort to treat the pop star's chronic insomnia. The medical examiner ruled that Jackson died of acute propofol intoxication.
A medical expert called by the prosecution told the jury last week that the available evidence suggests that Murray set up an unimpeded intravenous drip of propofol that continued to flow into Jackson's body until he was so drugged that he stopped breathing and died.
Defense lawyers ridiculed the assertion as mere opinion. But it remains to be seen whether Edward Chernoff and others on the defense team will offer a more plausible explanation for how so much of the powerful anesthetic got into Jackson's system.
They have suggested that Jackson may have self-administered the lethal dose, but medical experts have said that prospect is unlikely because the anesthetic is so fast-acting.
---