How 'Made in USA' parts wound up in Iraqi bombs; US indicts Iranian ring
Radio frequency modules made in Minnesota turned up in 16 unexploded roadside bombs in Iraq. According to an indictment unsealed Tuesday in Washington, the culprit was an Iran-based ring.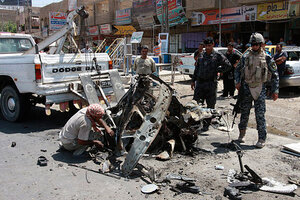 Ahmed Malik/Reuters/File
Federal agents have broken up a Tehran-based ring that smuggled radio frequency modules to Iran that later turned up in 16 unexploded roadside bombs in Iraq targeting US forces.
The alleged scheme was revealed in an indictment unsealed Tuesday at US District Court in Washington.
It charged four Singapore citizens and the alleged Iran-based ring-leader, Hossein Larijani, with violating US export control laws, including restrictions against shipments to Iran and the unauthorized transfer of military technology to unapproved countries.
The alleged operation involved the purchase and shipment of 6,000 radio modules from a company in Minnesota to Singapore, where the technology was illegally re-shipped to Iran, according to the indictment.
The four Singapore citizens were arrested on Monday. The US requested that they be extradited to Washington to stand trial, and Singapore reportedly has agreed to arrange their extradition.
The Iranian, Mr. Larijani, remains at large. Officials say he runs two companies, Paya Electronics Complex, based in Iran, and Opto Electronics Pte, Ltd., based in Singapore.
Because of an ongoing embargo, trade with Iran is illegal. In addition, certain categories of sensitive technology require export licenses, including verification that the equipment will not be transferred to certain designated countries. Iran is a country designated as ineligible to receive sensitive US technology.
In January 2010, Larijani's company, Opto Electronics, was placed on a Commerce Department watch list after US officials obtained information potentially linking Larijani to an alleged Iranian procurement agent, Majid Kakavand.
---