Doctor's defense expert: It's plausible Michael Jackson caused his own death
An expert in anesthesiology testified in defense of Michael Jackson's doctor, saying the pop star may have given himself a fatal dose of drugs and that the prosecution's theory does not fit the evidence.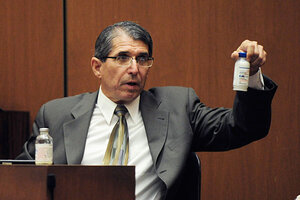 Paul Buck/AP
Michael Jackson may have caused his own death by taking a large quantity of sedative pills and giving himself an intravenous dose of the powerful anesthetic propofol in the final moments of his life, an expert in anesthesiology testified Friday.
Dr. Paul White told the jury at the manslaughter trial of the pop legend's personal physician that the most plausible explanation for the drug levels detected in Mr. Jackson's system after his death is that he swallowed pills and injected himself with propofol when his doctor was out of the room.
Defense Attorney Michael Flanagan asked Dr. White whether he would expect "adverse consequences" if Jackson quickly injected a dose of propofol into himself after already ingesting a significant quantity of lorazepam pills and after having been injected with the sedatives lorazepam and midazolam.
"I believe it could potentially have lethal consequences," White said.
The testimony came on the 20th day of the trial of Dr. Conrad Murray in the Los Angeles County Courthouse. The Las Vegas cardiologist is accused of administering a fatal dose of propofol while trying to treat Jackson's chronic insomnia.
Dr. Murray's lawyers maintain that Jackson gave himself the fatal dose. Murray has pleaded not guilty.
---