No need for new eye witness rule, Supreme Court justices suggest at hearing
The Supreme Court heard oral arguments on whether judges need to intervene to prevent testimony from unreliable witnesses at criminal trials. The justices indicated that existing safeguards in the justice system are adequate.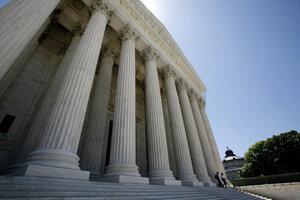 Molly Riley/Reuters
Members of the US Supreme Court appeared reluctant on Wednesday to establish a broad new constitutional rule to prevent unreliable eyewitness testimony at criminal trials.
During an hour-long oral argument session, several justices suggested that existing safeguards in the criminal justice system are adequate to prevent unreliable eyewitnesses from corrupting the process.
New Hampshire Public Defender Richard Guerriero argued that the court should establish a new standard in which judges would be instructed to exclude eyewitness testimony from a trial whenever the testimony posed a "substantial likelihood of misidentification."
Justice Stephen Breyer noted that the rules of evidence already empower judges to make such determinations.
"What is the difference between what you are asking for and what already exists in the law," Justice Breyer asked.
"What about all the other safeguards that you have," Justice Ruth Bader Ginsburg said. "You can ask the judge to tell the jury: Be careful; eyewitness testimony is often unreliable. You can point that out in cross-examination."
At issue in the case, Barion Perry v. New Hampshire, was whether state judges ruled properly when they allowed an eyewitness to testify at Mr. Perry's trial even though the witness had been unable to identify Perry's face in a police photo array.
Perry's lawyers argued that the testimony was unreliable and should have been barred from the trial.
Prosecutors countered that under existing Supreme Court precedent, such testimony may be excluded from a trial only in instances where the police engaged in suggestive tactics that may have influenced and tainted the eyewitness's observations. The courts found no manipulative tactics were used in Perry's case.
---