Should eye witnesses have to pass a test? Supreme Court to decide.
The Supreme Court hears arguments Wednesday on whether testimony from unreliable witnesses should be barred from criminal trials, or whether the trial process itself makes clear if testimony is reliable.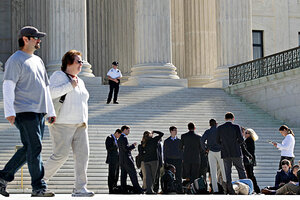 J. Scott Applewhite/AP
Most folks believe there is nothing better to solve a crime than an eye witness. Ironically, according to criminologists, eye witnesses can be notoriously unreliable and easily influenced to believe they saw someone they never saw.
It is not a minor issue. The vast majority of the nearly 300 innocent individuals freed from prison by DNA testing were convicted, at least in part, by eye witnesses who turned out to be dead wrong.
The US Supreme Court on Wednesday takes up a case examining whether judges should enforce broader protections to prevent the corrupting taint of unreliable eye-witness identifications in criminal trials.
The issue arises in a New Hampshire case involving Barion Perry, an African-American man who was identified as the suspect in a pre-dawn car break-in by a woman four floors up in a Nashua apartment building. The woman was later unable to identify Mr. Perry in a police photo spread.
Despite the eye-witness's inability to positively identify the suspect's face and clothing, the judge allowed her to testify at Perry's trial.
Prosecutors said in addition to the eye-witness testimony, other evidence and circumstances pointed to Perry as the perpetrator. The jury agreed.
Perry was convicted and sentenced to three to 10 years in prison.
In their appeal to the Supreme Court, Perry's lawyers argue that the purported eye-witness should have been excluded from testifying at the trial because her observations were unreliable. They say due process protections in the Constitution, which allows an accused person a fair opportunity to challenge testimony and evidence, require such trial safeguards.
---