Conrad Murray trial: As case goes to jury, a pressing question (video)
How did a fatal level of the anesthetic propofol end up in Michael Jackson's blood? That's a key question as the jury in the trial of Dr. Conrad Murray begins deliberations Friday.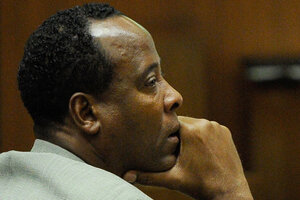 Kevork Djansezian/AP
To reach a verdict, jurors deliberating in the trial of Michael Jackson's physician must confront a question that cannot be answered with scientific certainty. How did a fatal level of the anesthetic propofol end up in the King of Pop's blood?
Two people know the correct answer to that question. One is dead. The other, Dr. Conrad Murray, offered police an explanation that prosecutors find implausible.
On Friday at the Los Angeles County Courthouse, a jury of seven men and five women are set to begin their deliberations after a five-week trial that featured 49 witnesses and 330 pieces of evidence.
How the jury answers that single question about drug levels in Jackson's blood could go a long way toward determining whether Dr. Murray is found guilty or is acquitted of involuntary manslaughter in Jackson's death in June 2009.
The medical examiner found that Jackson died of acute propofol intoxication in combination with other sedatives. But what experts were unable to determine conclusively was how the lethal combination of drugs entered the pop star's system.
Prosecutors have offered the theory that Murray set up an open-ended intravenous drip that allowed a significant quantity of propofol to continue to flow into Jackson's body until he was so sedated that he was no longer able to breath.
Defense lawyers have presented a competing theory that at some point Jackson self-administered a syringe-full of propofol in a fast push of anesthetic which, in combination with other drugs, killed him almost instantly.
In closing arguments on Thursday, Deputy District Attorney David Walgren told the jurors that Murray's decision to treat Jackson's chronic insomnia with nightly propofol infusions in the bedroom of Jackson's rented mansion was far outside any recognized medical standards of care.
"This type of care has never been seen," he said. "This was a pharmaceutical experiment in a bedroom."
In a recorded statement to police two days after Jackson's death, Murray told investigators that for nearly two months he had administered nightly intravenous drip infusions of propofol to help Jackson sleep.
---