Fast and Furious 'flawed,' US agent's death 'regrettable,' says Eric Holder
Fast and Furious operation, which allowed guns from US to 'walk' into hands of Mexican cartels, got sharpest censure yet from Attorney General Eric Holder on Tuesday. But Holder stopped short of apologizing for death of a US border patrol agent.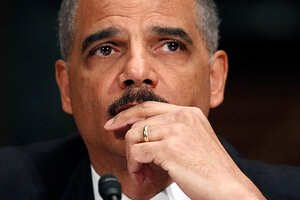 Kevin Lamarque/Reuters
The shooting death of US border patrol agent Brian Terry last December, which shined a light on a covert government "gun-walking" project called "Fast and Furious," was regrettable but cannot be tied definitively to wrongdoing by the Obama administration, Attorney General Eric Holder said Tuesday.
"I regret what happened to [agent] Brian Terry, and I can only imagine the pain that his family has to deal with," Mr. Holder testified, when asked by Sen. John Cornyn (R) of Texas whether he wanted to apologize to Mr. Terry's family. "But it's not fair to say that the mistakes in Fast and Furious led directly to the death of Brian Terry."
Begun in 2009, Fast and Furious was an attempt to track guns purchased in the US by straw buyers into Mexico and the hands of the drug lords. The hope was that the Bureau of Alcohol, Tobacco, Firearms and Explosives (AFT) would be able to build cases against cartel kingpins, instead of nabbing just low-level couriers. At the time, the US was under pressure to stanch gun-trafficking that many believed to be fueling violence gripping Mexico.
The problem is that ATF lost at least 2,000 guns before Fast and Furious was shut down last year. Many missing guns have since been linked to hundreds of crime scenes, dozens of civilian deaths in Mexico, and the deaths of Terry and special agent Jaime Zapata, with Immigration and Customs Enforcement, who was killed in a roadside raid outside Mexico City in February. Fast and Furious guns have been linked to crime scenes where both men died, and their families are demanding answers from the Obama administration about who knew what and when.
Meanwhile, Mexico is threatening to extradite US officials who approved the program, straining relations between the two nations.
Tuesday's hearing before the Senate Judiciary Committee was the 17th congressional inquiry related to Fast and Furious. Sen. Charles Grassley (R) of Iowa and Rep. Darrell Issa (R) of California, the primary inquisitors, say the Justice Department has tried to smear whistleblowers and mislead Congress as oversight committees try to pinpoint who is accountable for Fast and Furious mistakes.
---