Health care in court: Obama leading 3-1, but it ain't over 'til it's over
A federal appeals court panel in Washinton, D.C., upholds the constitutionality of Obama's health-care reforms, the third to do so. The Supreme Court is scheduled to consider on Thursday whether to take up one or more challenges to the law.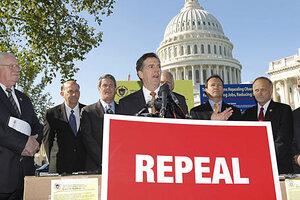 J. Scott Applewhite/AP/File
The score in the legal battle over President Obama's health-care reform law is now 3 to 1.
In constitutional challenges to the law before federal courts of appeal, three courts have upheld it, and one has not.
The latest ruling affirming the constitutionality of the Affordable Care Act (ACA) was issued Tuesday by a federal appeals court panel in Washington.
The decision, authored by Senior Judge Laurence Silberman, dismissed an appeal filed on behalf of four citizens who claimed the ACA's individual mandate exceeded Congress's authority under the commerce clause.
The centerpiece of the reform law requires that all Americans purchase a government-approved level of health insurance or pay a penalty.
Those challenging the law have attacked that provision as an unprecedented expansion of federal power that exceeds constitutional limits.
Judge Silberman disagreed. "The right to be free from federal regulation is not absolute, and yields to the imperative that Congress be free to forge national solutions to national problems," he wrote in a 37-page decision joined by Senior Judge Harry Edwards.
The third member of the appeals court panel, Judge Brett Kavanaugh, issued a dissent, saying he believed the appeals court lacked jurisdiction to hear the case and should not have addressed the merits of the arguments.
The decision was issued two days before the US Supreme Court is scheduled to consider whether to take up one or more cases testing the constitutionality of the ACA.
To date, federal appeals courts in Cincinnati, Richmond, Va., and now Washington, D.C., have upheld the health-care reform law. A federal appeals court in Atlanta declared the mandate unconstitutional.
If the Supreme Court agrees to take up the issue, oral arguments would likely be set for next spring with a decision issued by the end of June.
Supporters of the health-care reform law praised Silberman's decision, noting that he is considered a conservative jurist. Some analysts suggested that his opinion might provide a template for conservative justices seeking to uphold the ACA.
Other analysts said that as an appeals court judge, Silberman was aware that his opinion would not be the last word on the issue.
Most legal analysts believe the high court will agree to hear at least one ACA case and address the constitutionality of the individual mandate. Analysts are in sharp disagreement, however, about how the justices might ultimately resolve that issue.
---