Two decades after Anita Hill: how workplaces are handling sexual harassment
Sexual misconduct allegations against GOP presidential hopeful Herman Cain have put a spotlight on secret settlements, which many businesses are turning to in sexual harassment cases.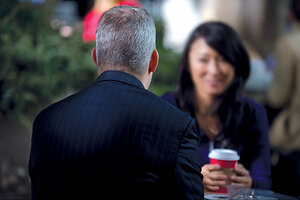 Photo illustration by Ann Hermes/Staff
The issue of sexual harassment in the workplace was seared into the national consciousness when, in 1991, Anita Hill accused Clarence Thomas of making harassing sexual statements at his confirmation hearings to be a US Supreme Court justice.
Since then, businesses have undertaken countless hours of sexual harassment seminars, employers have heeded legislation that makes them liable for punitive damages in these kinds of cases, and several high-profile class action lawsuits – particularly in the 1990s – have ended in the awarding of big damages to victims of harassment.
Yet even with all this, workplaces have seen sexual harassment claims go down just slightly in the past decade.
Now, some 20 years after the Thomas hearings, sexual misconduct allegations against GOP presidential hopeful Herman Cain are drawing fresh attention to the issue of sexual harassment.
In particular, the controversy surrounding Mr. Cain has put a spotlight on secret settlements – legal agreements with confidentiality clauses that prohibit accusing parties from disclosing details about the alleged misconduct, in return for money or other benefits.
The National Restaurant Association, which Cain headed in the late 1990s, entered into secret settlements with two women who accused the businessman of unwanted sexual advances. The NRA reportedly paid the women $35,000 and $45,000.
Such settlements are gaining popularity, say workplace discrimination experts. With these secret agreements, employers can avert costly legal fees, and as important, damaging publicity. But many see worrisome consequences.
The use of confidential settlements "started in the '90s, and it's really taken off since," says Julie Berebitsky, a professor of history and women's studies at the University of the South in Sewanee, Tenn., and author of the forthcoming book "Sex and the Office: A History of Gender, Power, and Desire." She adds, "Moving forward, I think that's where we're headed."
---