Ruling: Gay marriage foes can fight for Prop. 8 in federal court
California Supreme Court ruled Thursday that backers of Prop. 8 – which banned gay marriage in the state – can defend the measure in federal court, in lieu of state officials who declined to do so. The ruling means a major federal lawsuit proceeds.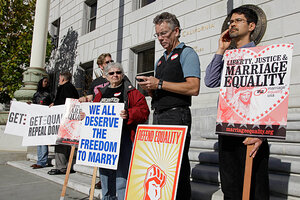 Eric Risberg/AP
The California Supreme Court on Thursday opened the way for the continuation of a major legal battle in federal appeals court over whether the US Constitution affords a right to same-sex couples to marry.
In a unanimous ruling, the state high court said the proponents of Proposition 8 – the ballot initiative that amended the California constitution to restrict marriage to heterosexual couples – are authorized under California law to defend the measure because state officials are refusing to do so.
The issue arises in an ongoing challenge to Proposition 8 designed to overturn the measure and establish a federal constitutional right to same-sex marriage.
In 2010, a federal judge in San Francisco ruled that Proposition 8 violated both the due process and equal protection clauses of the US Constitution.
Proposition 8 proponents urged the governor, the attorney general, and other state officials to appeal the ruling. But California officials – who are primarily responsible for defending the state's constitution and its laws – refused to file an appeal.
In their absence, Proposition 8 proponents filed their own appeal. It asked a three-judge panel of the Ninth US Circuit Court of Appeals to overturn the federal judge's ruling invalidating Proposition 8.
---