Natalie Wood case reopened: Could investigation lead to new charges?
L.A. police reopened the case concerning the death of Natalie Wood in 1981, but experts say convincing evidence is needed to bring new charges – and new allegations aren't enough.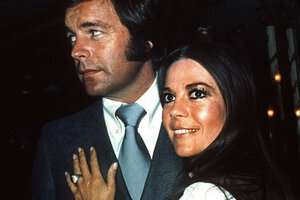 AP/File
It appears highly unlikely that the reopened investigation into the death of Natalie Wood 30 years ago – announced Friday by the Los Angeles Sheriff's Department – will lead to any new prosecution in the case, say legal analysts.
The case is being reopened because yacht captain Dennis Davern – one of only four people on board the boat with Ms. Wood the night she drowned – went on NBC's Today Show this morning to say that he lied to investigators about the actress's mysterious death 30 years ago. He alleged that Wood's husband, Robert Wagner, had something to do with her death, which had been classified as an accident.
"I made some terrible decisions and mistakes," Davern said in the interview with NBC News' David Gregory. "I did lie on a report several years ago. I made mistakes by not telling the honest truth in a police report."
Later in the day, the L.A. Sheriff's Department called a press conference and asked all who might know anything or have additional evidence to please come forward. But based on Friday's two events, legal analysts caution against jumping to conclusions.
"The press conference raised more questions than it answered," says Robert Pugsley, professor of law at Southwestern Law School in Los angeles. "I am very skeptical and advise others to be skeptical as well. I didn't sense they had done any groundwork leading to this and in my opinion it was very premature."
---
Follow Stories Like This
Get the Monitor stories you care about delivered to your inbox.