'Propofol madness': Conrad Murray gets 4 years for Michael Jackson death
A judge, citing 'propofol madness,' sentenced physician Conrad Murray Tuesday to four years, the maximum punishment allowed, for his role in the 2009 death of pop superstar Michael Jackson.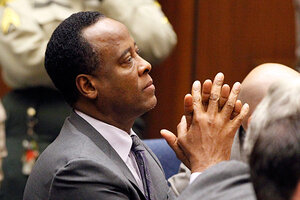 Mario Anzuoni/AP
Michael Jackson's personal physician, Conrad Murray, was sentenced Tuesday to the maximum available punishment – four years in the Los Angeles County Jail – for his role in the death of the pop superstar in June 2009.
The former cardiologist in Las Vegas and Houston was convicted Nov. 7 of a single count of involuntary manslaughter after a six-week trial. He was charged with giving Mr. Jackson a fatal dose of the powerful anesthetic propofol in combination with other sedatives to treat Jackson's chronic insomnia.
In a sentencing hearing at the Los Angeles County courthouse, Superior Court Judge Michael Pastor lambasted Dr. Murray for violating the trust of his famous patient, for lying to various medical officials, and for later showing no remorse for his crime.
He said Murray engaged in "propofol madness" in which he abandoned his sworn obligation as a physician in exchange for hopes of money, fame, and prestige as the private doctor to an entertainment legend.
"Michael Jackson died not because of an isolated one-off incident, he died because of a totality of circumstances that are directly attributable to Dr. Murray," Judge Pastor said. "This is an unacceptable, egregious departure from an accepted standard of care – a disgrace to the medical profession."
Pastor said Murray's administration of propofol as a sleep aid on a nightly basis in the bedroom of Jackson's rented mansion amounted to human experimentation.
"It should be made very clear that experimental medicine will not be tolerated," Pastor said. "Mr. Jackson was an experiment. The fact that he participated in it does not excuse or lessen the blame of Dr. Murray, who could have said no and walked away as many others did."
---