Rod Blagojevich sentencing: Does he deserve at least 15 years in prison?
Rod Blagojevich, former governor of Illinois, appears in court Tuesday for sentencing. Prosecutors are pushing for a 15- to 20-year sentence, and they have the upper hand, experts say.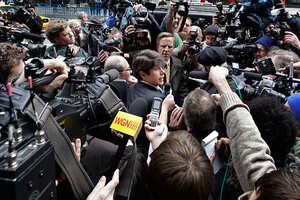 M. Spencer Green/AP/File
Rod Blagojevich faces a federal judge Tuesday who might send the impeached Illinois governor to federal prison for nearly 20 years, experts say.
The sentencing hearing, which is expected to last into Wednesday, concludes a three-year political saga here that started outside Mr. Blagojevich's home, where he was arrested on charges he tried to sell or trade President Obama's vacated US Senate seat.
It took two trials for federal prosecutors to get what they wanted: conviction on 17 of 20 counts, including bribery and attempted extortion. A first trial resulted in a single conviction of lying to the FBI and a deadlocked jury on all other counts.
Prosecutors are recommending to US District Judge James Zagel that Blagojevich receive between 15 and 20 years behind bars. They say their analysis of federal sentencing guidelines shows that he deserves 30 years to life, but are suggesting a lesser sentence due to the hardships imposed on his wife and two daughters.
Blagojevich "has refused to accept any responsibility for his criminal conduct and, rather, has repeatedly obstructed justice and taken action to further erode respect for the law," prosecutors wrote in a filing released last week. They also say that Blagojevich's sentence needs to be higher than the 6-1/2 years given to former Illinois Gov. George Ryan, who is currently sitting in federal prison on corruption charges, including fraud and racketeering.
---