Harsh sentence for Rod Blagojevich: Did his fight reflexes cause him harm? (VIDEO)
Despite his apparent contrition in court, Rod Blagojevich wasted little time after sentencing before vowing 'to fight through adversity.' Legal experts suggest his boxer's instincts antagonized the judge.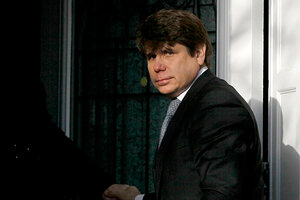 Charles Rex Arbogast/AP
On Wednesday, moments after former Illinois Gov. Rod Blagojevich was told he was going to federal prison for 14 years, he was outside the courthouse quoting a Rudyard Kipling poem and suggesting that despite the judge's order to report to prison in two months, the fight was not over.
"This is a time to be strong, this is time to fight through adversity.… We're going to keep fighting on through this adversity and [we'll] see you soon," Mr. Blagojevich said.
The suggestion that he wasn't through fighting is perceived as unusual, especially after Blagojevich directed an apology to US District Judge James Zagel earlier that morning.
"The jury decided that I was convicted and I am accepting of it. I acknowledge it, and, of course, I am unbelievably sorry for it," Blagojevich said.
They are words that ring hollow for many trial watchers.
Chicago Tribune columnist Eric Zorn said Wednesday that because Blagojevich continually referred to his actions as "mistakes" and not crimes makes his final admissions "the courtroom equivalent of the weasel's apology."
"In all this tangle of words and seeming self-reproach, I do not see a simple admission of intentional wrongdoing. The 'mistakes' he refers to are still not crimes in his mind – they are things he said and did that he now 'accepts' that the jury found were a crime," Mr. Zorn wrote.
Ever since his arrest in December 2008 on corruption counts largely related to schemes to sell President Obama's former US Senate seat in exchange for campaign contributions and political favors, Blagojevich has positioned himself as a scrappy street fighter in the ring against political enemies determined to knock him out.
---