Supreme Court takes Arizona immigration law case in key test of federal power
The Supreme Court has agreed to consider the tough Arizona immigration law, setting the stage for a potentially landmark ruling on whether states have rights to set immigration policy.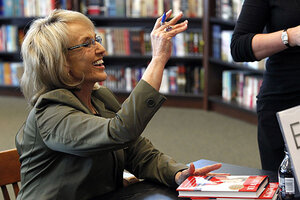 Ross D. Franklin/AP
The US Supreme Court on Monday agreed to decide whether Arizona's tough immigration law, SB 1070, impermissibly interferes with the Obama administration's kinder, gentler approach to illegal immigration and is thus preempted by federal law.
The case, Arizona v. US (11-182), will be heard next spring by eight justices, with Justice Elena Kagan recusing herself from consideration of the appeal. (Justice Kagan served as President Obama's solicitor general prior to her appointment to the Supreme Court.)
Accepting the case sets the stage for a second major election-year showdown at the nation's highest court over a potential landmark legal dispute that brings into sharp focus a fundamental disagreement between Democrats and Republicans that has left the country bitterly divided.
Last month, the high court set aside an extraordinary 5-1/2 hours for oral argument on President Obama's health-care reform law, including whether Congress overstepped constitutional limitations on its authority by ordering every American to purchase a government-approved level of health insurance or pay a penalty.
---