Confusion reigns over medical marijuana as states and Feds clash
Sixteen states allow medical marijuana for patients with prescriptions. But the Feds have lately cracked down on what they say are abuses by the burgeoning industry. Will 'pot wars' ensue?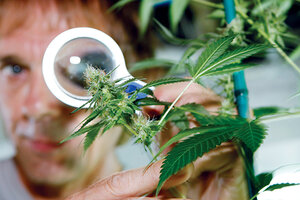 Ed Andrieski/AP/File
A "giant mess" is how Los Angeles City Councilman José Huizar sees the conundrum over the expansion of medical marijuana, which is seen across the city in the growing number of patients with prescriptions, dispensaries popping up faster than Starbucks shops, and neighborhood complaints about rising crime and traffic.
The root of the "mess"? The challenge of carrying out the will of Californians, who in 1996 voted to decriminalize marijuana sales and possession for medicinal use, even as the federal government still deems marijuana, "medical" or not, to be an illegal drug, he says.
Such is the case in 15 other states that allow medical marijuana, leaving their local governments to sort out for themselves whether to encourage an above-board marijuana industry, as Oakland, Calif., has done, to fight it tooth and nail on grounds it's illegal under federal law, or to otherwise regulate it. Whatever they decide, it carries the risk of being in trouble with either state officials or federal authorities.
It's been a wild ride for L.A. Two years ago, the city council voted to allow dispensaries and then watched them proliferate to more than 800. As neighborhood residents complained about perceived jumps in crime, the council last year moved to restrict the outlets. Now it's not clear if the city even has that authority: A federal judge ruled in November (in a case from neighboring Long Beach) that marijuana is a drug subject to federal, not local, regulation.
---