Why did Jerry Sandusky waive his right to hearing on sex abuse charges?
Jerry Sandusky was scheduled to face his accusers for the first time Tuesday at a preliminary hearing. Instead he waived his right to the hearing, raising questions about the defense team's tactics.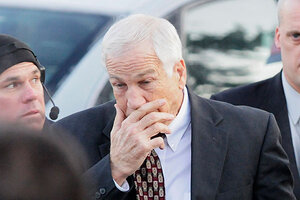 Jonathan Ernst/REUTERS
The dramatic case against disgraced former Penn State football coach Jerry Sandusky was scheduled to ramp up Tuesday with a preliminary hearing, which would have forced Mr. Sandusky to face his accusers for the first time.
That didn't happen. Sandusky's defense team, in a last-minute turnaround, waived their client's right to the hearing. For prosecutors, the decision is a clear sign the defense is preparing for a plea deal arrangement, which will automatically send Sandusky to prison without the need for a trial.
The defense team, however, says they walked away from the preliminary hearing to prevent a rehashing of the allegations before a trial. A trial, they say, would allow the defense to more fully cross-examine the alleged victims, who the defense suggests are in collusion with each other for financial gain.
Either way, legal experts say that despite the overwhelming evidence against Sandusky, the 50 counts of abusing 10 boys, and his missteps in recent media interviews, the case will not be open and shut.
"I know there's this perception that this is a slam-dunk case for the prosecutors. But there are icebergs out there that can sink this case," says Andrew Stoltmann, a Chicago attorney.
Sandusky says he is innocent of charges he sexually abused boys over a 15-year window. He remains under house arrest on $250,000 bond and is wearing an ankle monitor.
---