Accused WikiLeaks source Bradley Manning goes to military court
Army Pvt. Bradley Manning is charged with providing thousands of classified documents to WikiLeaks. As his military court case begins, his lawyer will try to show that the Army ignored problems with an erratic young soldier.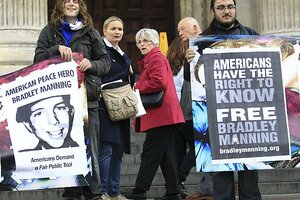 Olivia Harris/Reuters
Bradley Manning, the young US Army soldier charged with what may have been the largest intelligence leak in US history, faces his first day in military court Friday.
Not on trial but also in the spotlight are military security – specifically, how well the military secures its secrets in a combat zone – and the extent to which the Army should have foreseen problems with a private barely out of his teens who one superior officer had warned was "a mess of a child."
As detailed by the Pentagon, Manning is charged with "aiding the enemy; wrongfully causing intelligence to be published on the internet knowing that it is accessible to the enemy; theft of public property or records; transmitting defense information; fraud and related activity in connection with computers; and for violating Army Regulations 25-2 'Information Assurance' and 380-5 'Department of the Army Information Security Program.' " There are 22 charges in all.
"Aiding the enemy" is a capital offense, but military officials say they will not seek the death penalty but rather life in prison without possibility of parole.
Under the Uniform Code of Military Justice (UCMJ), Manning's Article 32 hearing Friday (expected to last about a week) is to determine whether he should be court martialed. The hearing will be held at Fort Meade, Md.
Manning's civilian attorney is David Coombs, a lieutenant colonel in the Army Reserves who spent 12 years on active duty in the judge advocate corps.
---
Follow Stories Like This
Get the Monitor stories you care about delivered to your inbox.