Barry Bonds isn't going to prison. Is he being punished enough?
Barry Bonds, seen by many fans as having irreparably harmed baseball, is sentenced to home detention, community service, probation, and a fine. Experts call the punishment appropriate for the crime.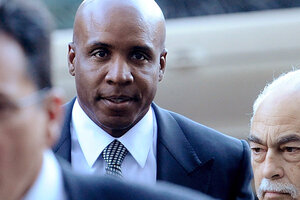 Noah Berger/AP
Major League Baseball's home run king will not be going to prison.
Instead, former San Francisco Giant's star Barry Bonds, 47, was sentenced Friday to 30 days of home confinement, two years probation, 250 hours of community service, and a $4,000 fine. And all of that was suspended pending appeal, which may take up to a year.
While many disappointed fans may see the sentence as insufficient punishment for the man they feel irreparably tarnished the image of America's pastime, most legal experts say the sentence was correct and proportional. They remind fans that Mr. Bonds was not being judged for his years of alleged steroid use, but for the single charge of obstructing justice, a far lesser charge than perjury, over which the jury was deadlocked.
"The sentence seems reasonable under the circumstances to me," says Kevin Johnson, dean of the UC Davis Law School. He notes that the sentence was what the probation office recommended despite federal sentencing guidelines that recommend 15 to 21 months in prison.
---
Follow Stories Like This
Get the Monitor stories you care about delivered to your inbox.