Failed Martin Luther King Day parade bomber gets 32-year sentence
The white supremacist who pleaded guilty to attempting to bomb a Martin Luther King Day march in Spokane, Wash., was sentenced Tuesday. The FBI says the story is a cautionary tale about the threat of 'lone wolf' attacks.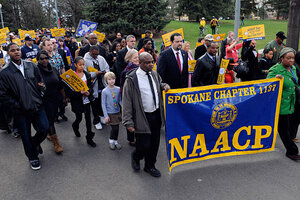 J. Bart Rayniak/The Spokesman-Review/AP/File
A self-professed white supremacist was sentenced to 32 years in prison on Tuesday after admitting that he left an explosive device in a backpack near the intended route of a Martin Luther King Day Unity March in Spokane, Wash.
The device was packed with 128 0.25-ounce fishing weights coated with the anticoagulant brodifacoum, an active ingredient in rat poison, according to court documents.
The device, discovered on Jan. 17, did not detonate.
Kevin William Harpham of Colville, Wash., was arrested two months later. He pleaded guilty in September to two of four counts in his federal indictment: attempting to use a weapon of mass destruction, and attempting to cause bodily injury with an explosive device because of the race, color, or national origin of a targeted person.
Under the terms of his plea agreement, Mr. Harpham avoided a potential life sentence. Following his 32-year prison sentence, Harpham has been ordered to serve probation for the rest of his life.
Roughly 2,000 people, many of them minorities, were set to participate in the unity parade. The backpack and explosive device were found by alert city workers prior to the event.
Officials say the incident underscores the importance of citizens remaining vigilant. But they add it also points up a lingering vulnerability in the US to homegrown terrorists.
---