US crime rate at lowest point in decades. Why America is safer now.
The crime rate for serious crimes, including murder, rape, and assault, has dropped significantly since the early 1990s in part because of changes in technology and policing, experts say.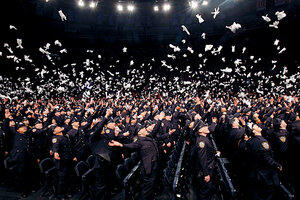 Richard Drew/AP
The last time the crime rate for serious crime – murder, rape, robbery, assault – fell to these levels, gasoline cost 29 cents a gallon and the average income for a working American was $5,807.
That was 1963.
In the past 20 years, for instance, the murder rate in the United States has dropped by almost half, from 9.8 per 100,000 people in 1991 to 5.0 in 2009. Meanwhile, robberies were down 10 percent in 2010 from the year before and 8 percent in 2009.
The declines are not just a blip, say criminologists. Rather, they are the result of a host of changes that have fundamentally reversed the high-crime trends of the 1980s. And these changes have taken hold to such a degree that the drop in crime continued despite the recent recession.
Because the pattern "transcends cities and US regions, we can safely say crime is down," says James Alan Fox, a criminologist at Northeastern University in Boston. "We are indeed a safer nation than 20 years ago."
He and others give four main reasons for the decline:
Increased incarceration, including longer sentences, that keeps more criminals off the streets.
Improved law enforcement strategies, including advances in computer analysis and innovative technology.
The waning of the crack cocaine epidemic that soared from 1984 to 1990, which made cocaine cheaply available in cities across the US.
The graying of America characterized by the fastest-growing segment of the US population – baby boomers – passing the age of 50.
---