USS Cole bombing: Judge denies lawyers' bid to meet with unchained client
Lawyers for the alleged USS Cole bombing mastermind say the security restrictions at the Guantanamo Bay terror detention camp are hindering their ability to prepare his defense.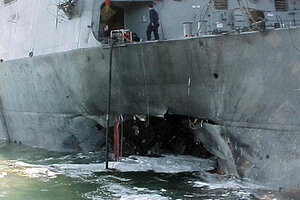 Aladin Abdel Naby/Reuters/File
Lawyers representing the alleged mastermind of the 2000 USS Cole bombing in Yemen lost a bid Tuesday to be allowed to meet with their client face-to-face and unrestrained by chains.
The lawyers complained that tough security restrictions at the terror detention camp at Guantanamo Bay were hindering their ability to work closely with Abdal Rahim Al-Nashiri in preparing his defense against the capital murder and terror conspiracy charges filed against him.
Their request was denied on the first of two days of pre-trial motions in the military commission trial at the US naval base in southeast Cuba. A live video stream of the proceedings is being broadcast to members of the press at Fort Meade.
In a full day of motions, military prosecutors and defense lawyers sparred over controversial plans by Guantanamo officials to monitor attorney-client communications as well as potentially the defense attorneys' computers and emails.
The commander of the joint task force that runs the detention camp, Rear Adm. David Woods, defended an order he issued last month establishing new procedures for defense counsel to submit attorney-client communications to military officials for clearance before they would be forwarded on to their client.
The admiral said the procedure was designed to prevent transmission of any information that might pose a security threat, such as a map of the facility. But defense lawyers complain that the monitoring could violate the attorney-client privilege.
---