Judges bar viewing of gay marriage trial videos: what they're protecting
A federal appeals court rejected the release of video recordings of a landmark gay marriage trial, saying the trial judge's order to keep them under wraps must be honored to preserve judicial integrity.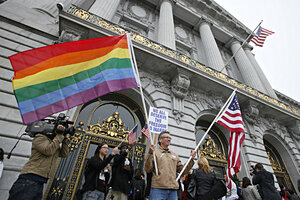 Eric Risberg/AP
A federal appeals court on Thursday refused to allow the public release of video recordings of a landmark gay marriage trial conducted two years ago in San Francisco, citing the trial judge's order to keep the recordings under wraps.
In a case that had drawn in the US Supreme Court at an earlier phase, the Ninth US Circuit Court of Appeals reversed a federal judge's ruling permitting the trial recordings to be made available for viewing by members of the public.
The tapes were created at the instruction of former Chief US District Judge Vaughn Walker as he presided over a high profile trial in which two same-sex couples challenged the constitutionality of California's ban on gay marriage.
The chief judge later ruled for the couples, declaring that California's restrictions on marriage for gay and lesbian couples violated the US Constitution. (That ruling is also under appeal to the same Ninth Circuit panel that issued Thursday's decision.)
Chief Judge Walker had initially allowed the simultaneous broadcast of the January 2010 trial proceedings to remote courthouses and on the Internet. But that order was reversed by the US Supreme Court, after supporters of the state's Prop-8 same-sex marriage ban who had been called as witnesses expressed concern for their safety if their names and faces were broadcast across the country.
During the run-up to the ballot initiative on the issue, Prop-8 proponents complained that they had received threats and harassment from militant gay rights supporters.
The Supreme Court order effectively blocked any live broadcasts for the duration of the 12-day trial.
---