Why momentous Prop. 8 ruling might not satisfy gay-rights groups
A federal court overturned Prop. 8, California's ban on gay marriage, but the ruling did not affirm a federal constitutional right to same-sex marriage, as gay-rights groups had hoped.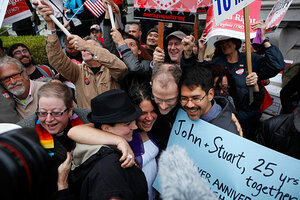 Beck Diefenbach/REUTERS
A federal appeals court in San Francisco on Tuesday struck down California's ban on same-sex marriage, ruling that the ballot initiative violated the equal-protection rights of gay and lesbian couples by withholding a marriage right they had already once enjoyed.
The decision sets the stage for a potential showdown at the US Supreme Court over an issue that has bitterly divided not just Californians but much of the nation.
The panel of the Ninth US Circuit Court of Appeals ruled 2 to 1 that California's 2008 ballot initiative restricting marriage to between one man and one woman, violated the federal constitution by refusing same-sex couples the same marriage rights enjoyed by heterosexual couples.
"The People may not employ the initiative power to single out a disfavored group for unequal treatment and strip them … of a right as important as the right to marry," wrote Judge Stephen Reinhardt in the majority decision.
"Proposition 8 serves no purpose, and has no effect, other than to lessen the status and human dignity of gays and lesbians in California, and to officially reclassify their relationships and families as inferior to those of opposite-sex couples," Judge Reinhardt said. "The Constitution simply does not allow for laws of this sort."
---