Affirmative action in college admissions goes back before Supreme Court
US Supreme Court is taking an affirmative action case about the University of Texas admissions policy, which permits race to be a factor in deciding which applicants are admitted.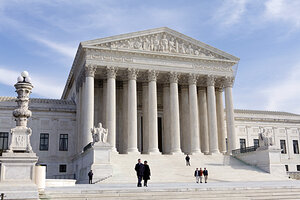 J. Scott Applewhite/AP/File
The US Supreme Court agreed on Tuesday to take up a potential blockbuster case testing the constitutionality of race-based admissions policies at the University of Texas.
The case, Fisher v. University of Texas (11-345), is being closely followed by conservative analysts who are hopeful the high court will use the Texas dispute to establish new constitutional limits on race-conscious affirmative action plans at public colleges and universities nationwide.
In announcing it would take up the case, the court also said Justice Elena Kagan would not take part in deciding the dispute. Before joining the high court, Justice Kagan served as solicitor general in the Obama administration.
Although it is unclear precisely when the case will be set for oral argument, the action brings the politically divisive issue of race to the high court in a presidential election year in which the nation's first African-American president is seeking a second term in the White House.
The Supreme Court is being asked to reverse a lower court decision upholding the use of race in the University of Texas admissions program.
At the heart of the underlying lawsuit is whether the university violated the equal protection clause of the 14th Amendment by using race as a factor in deciding which student applicants to admit and which to reject.
---