How Supreme Court ruling on Texas could reduce affirmative action across US
The Supreme Court, which has shifted to the right, may use the Texas case to overturn the 2003 decision that achieving classroom diversity could justify the use of race-based affirmative action.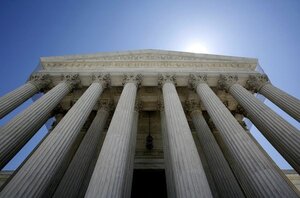 Molly Riley/Reuters/File
The US Supreme Court's decision on Tuesday to examine the race-based admissions plan at the University of Texas raises the possibility it may rule in a way that dramatically reduces the use of affirmative action plans at public colleges and universities across the country.
At issue in the Texas case is whether that's school's use of affirmative action to supplement minority enrollment at the state's flagship university violates the equal protection rights of nonminority students competing for the same places in the freshman class.
University officials relied on a Supreme Court decision in a 2003 case, Grutter v. Bollinger, to support its use of race in an attempt to achieve a critical mass of racial and ethnic diversity in every class taught at UT.
Critics say the effort is an abuse of the diversity rationale approved by the Supreme Court in 2003. Supporters say it is necessary to fulfill the university's educational mission of providing a diverse learning environment.
Legal analysts said the court may use the Texas case to revisit – and perhaps overturn – the 2003 decision in which the majority justices established for the first time that classroom diversity could provide a compelling interest justifying the use of race-based affirmative action.
That decision in Grutter v. Bollinger involved an admissions program at the University of Michigan Law School. The justices voted 5 to 4 to uphold the race-based program.
The critical swing vote was cast by then-Justice Sandra Day O'Connor, who wrote in her decision that such race-based programs should be phased out as unnecessary within 25 years.
---