West Memphis Three: $100,000 reward offered to clear their names
The West Memphis Three, convicted of killing three Cub Scouts, were released last year but not exonerated. A new $100,000 reward aims to clear their names.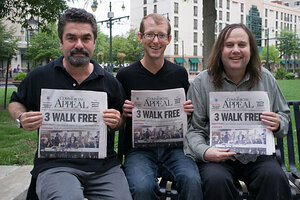 Jonathan Silberberg/HBO/AP
Activists hope a $100,000 reward, offered by an anonymous donor on Tuesday, leads to an arrest and conviction in the West Memphis Three case.
The three men originally arrested in the 1993 murders of three Cub Scouts in West Memphis, Ark., were released last August after 18 years in prison. They offered an "Alford plea," in which the three actively claimed innocence, but pleaded guilty for freedom in exchange for time already served.
The murders were described as Satanic and gruesome at the time, but no physical evidence, including DNA, linked the men, who were then teenagers, to the crime.
The three men – Damien Echols, Jason Baldwin and Jesse Misskelley – became a cause célèbre within parts of Hollywood and the music industry, with stars ranging from actor Sean Penn to singer Eddie Vedder championing their cause. Since their relese in August, the three men have led a whirlwind life of attending celebrity parties, learning 21st century technology, and coping with freedom.
But West Memphis Three supporters want the men to have a clear name and won't stop until the real murderer, or murderers, is behind bars.
"We know Damien, Jason and Jessie were not involved in this crime, and that those responsible are still in our community," says Capi Peck, a founder of Arkansas Take Action, a group of concerned citizens seeking justice in case. "It may be difficult to provide information about a murder, but it is the right thing to do."
---