New York voters back NYPD Muslim-spying operation, poll finds
A poll released Tuesday finds that 58 percent of New York voters support NYPD antiterror operations that critics call a violation of Muslims' civil liberties.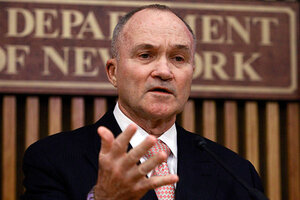 Frank Franklin II/AP/File
A new poll suggests that most New York voters support their police department's aggressive antiterror tactics, despite claims from critics that the surveillance techniques violate Muslims' civil liberties.
A series of reports by the Associated Press claims that the New York Police Department's Demographics Unit targeted only New York's Muslim community for surveillance, which included recording conversations in stores and license plate numbers of people attending mosque – even without evidence of any criminal activity.
But 58 percent of New York voters said that police acted appropriately in dealing with Muslims, according to a poll released Tuesday by Quinnipiac University. Some 29 percent disagreed.
An even greater share of New York voters – 82 percent – said that the NYPD has been effective in fighting terrorism. The poll found that more Republicans support the NYPD than Democrats, but a majority of both parties are in support.
On Atlantic Avenue in Brooklyn – a Muslim area that includes many of the Syrian-owned businesses targeted by the secret investigation – several non-Muslims interviewed said they support the NYPD's tactics.
---