Trayvon Martin killing in Florida puts 'Stand Your Ground' law on trial
The shooting of Trayvon Martin, an unarmed black teenager, in a gated Florida community has raised allegations of racial injustice and highlighted the burden that 'Stand Your Ground' laws impose on law enforcement officers.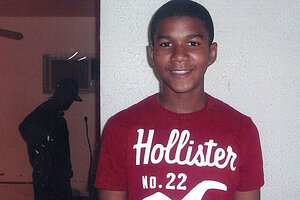 AP Photo/HO, Martin Family Photos
For many tuning in across the nation, the shooting late last month in Florida of an unarmed black teenager by a suspicious neighborhood watch captain looks like a racially motivated murder.
That's why the decision by the police not to arrest George Zimmerman for getting out of his car and shooting Trayvon Martin in the middle of a gated neighborhood in Sanford, Fla., on Feb. 26 has raised allegations of racial injustice and profiling.
The shooting has sparked a nationwide protest petition, the involvement of a black militia group, and, on Friday, a call by the parents of the slain teenager for the FBI to investigate the handling of the case, which police have handed off to state investigators.
The shooting also presents a tragic snapshot of so-called "Stand Your Ground" laws, what critics call "license-to-murder."
Such laws eliminate the English Law concept of a "duty to retreat" from dangerous situations outside the home. Without that, an armed citizen has no obligation to stand down in the face of a threat.
The problem, as the Martin case highlights, is that making the duty to retreat "totally irrelevant," as Stetson University law professor Robert Batey has said, means the law gives prosecutors fewer factors to consider when determining self-defense, including, potentially, the extent to which a person claiming self-defense may have aggravated the situation.
Florida became the first state to pass a specific Stand Your Ground law in 2005, essentially expanding self-defense zones from the home to most public places. Seventeen states now have such laws.
---