Race in America: Trayvon Martin, Tulsa killings raise contentious questions
Troubling cases involving race, including the Trayvon Martin shooting and this week's killing of several blacks in Tulsa, Okla., raise difficult social and political issues for many Americans.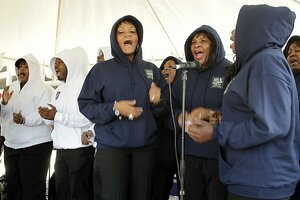 Lance Murphey/Reuters
There are points along the historical continuum of social and political dialogue in America where race flashes forth, usually emitting more heat than light.
The Trayvon Martin case seems to be one of those. Coincidence or not, it comes at a time when authorities are sorting through another incident in which deadly violence may have been racial in nature, this one in Tulsa, Okla.
On Feb. 26 in Sanford, Fla., neighborhood watch volunteer George Zimmerman (who is white-Hispanic) shot and killed black unarmed teenager Martin under disputed circumstances.
There may or may not have been a struggle, and if so it's unclear who initiated it. It's unclear whether Zimmerman was hurt, which might be used as a self-defense legal argument. From 911 recordings and the recollection of some neighbors in the area, it's also unclear who cried out in fear before a shot was heard, although two experts in sound analysis have ruled out Zimmerman.
Gun nation: Inside America's gun-carry culture
Six weeks after the event, authorities have yet to decide whether Zimmerman should be charged with a crime – a source of particular frustration to Martin's family and supporters conducting daily rallies and vigils around the country. It's also prompted reexamination of "Stand Your Ground" laws in Florida and some two dozen other states under which citizens may use deadly force rather than retreat when they think they're in danger.
Meanwhile, Zimmerman's family and supporters likewise are preparing for any prosecution that might result, building a defense case in a series of media interviews.
---