Trayvon Martin case: Relief, hope in Sanford, Fla., after Zimmerman charged
With second-degree murder charges filed Wednesday against George Zimmerman in the Trayvon Martin case, residents in Sanford, Fla., scene of the alleged crime, perceive that a crisis has passed.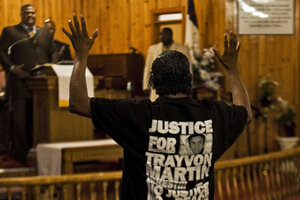 Steve Nesius/REUTERS
Emotions of grim satisfaction mixed with doses of celebratory approval circulated throughout pockets of Sanford Wednesday evening, as news traveled through town that neighborhood watchman George Zimmerman was in custody and staring down charges of second-degree murder for shooting and killing 17-year-old Trayvon Martin, an unarmed black teenager who was walking home from a convenience store on Feb. 26 when the fateful encounter occurred.
Six tense weeks had elapsed since Trayvon's death, which spurred a national conversation about gun rights and the self-defense laws that were blamed for delaying Mr. Zimmerman's arrest, the history of race relations in the central Florida city where it all took place, and what many saw as the racial profiling of a black teen in a hoodie.
Sitting on a cushioned bench of the W. 13th Street Barbershop in Goldsboro, the historically black part of Sanford, Fla., Lateshia Rollins called up her friend and told her to get to a television. State Attorney Angela Corey in Jacksonville was minutes away from announcing the charges against Zimmerman.
"This ain't April Fool's Day. Look on the news!" Ms. Rollins said into her cellphone. She watched on TV as Ms. Corey told the assembled reporters that she and her team did not come to this decision lightly: "Let me emphasize that we do not prosecute by pressure or petition."
---