Modesto cop killing highlights spike in violence against police
The number of cops killed on the beat had been declining since the 1970s and was bound to end, say experts. But the killing of cops in Modesto, Calif., and Greenland, N.H., Thursday could point to other trends.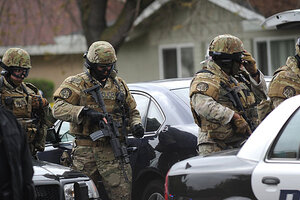 Joan Barnett Lee/The Modesto Bee/AP
Two high-profile shootings of police officers in small towns – one on each coast – are highlighting statistics that show a sharp spike in police officer deaths nationwide during the past two years.
But experts caution against the conclusion that criminals are ramping up a new "war on cops," instead suggesting that the statistics merely show an end to a 40-year decline in officer fatalities.
Killed Thursday in Greenland, N.H., was Chief Michael Maloney, one week short of retirement; four other officers were shot. Also on Thursday in Modesto, Calif., a civilian and a sheriff's deputy were shot and killed by a homeowner who opened fire to avoid being evicted by authorities.
Last year, 72 officers were killed in the line of duty, up from 41 in 2008. But the 2011 number is similar to 2001, when 70 officers were killed – and it is far below the statistics from the 1970s. In 1973, for example, 143 officer deaths were reported.
"Newton's law of criminology states that what goes down must eventually go up," says James Alan Fox, a criminologist at Northeastern University in Boston. "After that long a decline, it's not surprising at all that the number has finally jumped."
While other analysts agree, they add that Thursday's shootings highlight other areas of concern.
---