Author of Arizona immigration law defends it in Senate hearing
In a hearing Tuesday, Sen. Charles Schumer (D) challenged Russell Pearce, champion of a controversial Arizona immigration law, to explain how racial profiling could be avoided under the statute. The US Supreme Court takes up Arizona's law on Wednesday.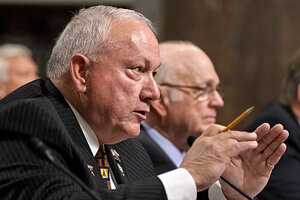 J. Scott Applewhite/AP
Sen. Charles Schumer confronted the author of Arizona's tough immigration enforcement law on Tuesday, demanding to know how state and local officials could enforce the measure without engaging in illegal racial profiling of Latinos.
"What does an illegal immigrant dress like?" Senator Schumer asked during a hearing of the Judiciary Subcommittee on Immigration, Refugees and Border Security.
The New York Democrat cited an Arizona police training manual that said how a person dresses might provide reasonable suspicion that the individual is an illegal immigrant.
"Do illegal immigrants dress any differently than legal immigrants or American citizens?" Schumer asked.
The focus of his inquiry was Russell Pearce, the former Arizona Senate president who wrote and championed the controversial 2010 state law known as SB 1070.
"This is just a list of things to look for," Mr. Pearce told the senator. It was one of many factors officers might consider before asking for identification, he said.
But doesn't that lead to racial profiling? Schumer asked.
"Just the opposite," Pearce said. "As a civil libertarian … I don't want a police state."
---