Arizona immigration law: Another setback for Obama at Supreme Court?
Tough questioning by the justices suggest that at least some of the provisions of the Arizona law may be upheld, rejecting the Obama administration's expansive view of federal power.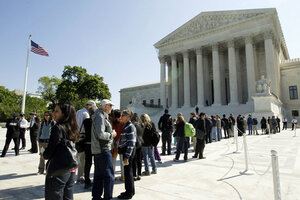 Charles Dharapak/AP
The Obama administration appears headed for a second potential election-year defeat in a major case at the US Supreme Court, this one over a controversial immigration enforcement law in Arizona.
Just as he did last month in the health care reform case, Solicitor General Donald Verrilli on Wednesday faced a barrage of skeptical questions and comments from the justices.
The aggressive questioning suggests there may be five votes in support of at least some of the four challenged provisions of the Arizona law.
At one point, Justice Sonia Sotomayor advised the solicitor general, who represents the Obama administration at the high court, that his argument was "not selling very well." She added: "Why don't you try to come up with something else?"
One of the provisions of the Arizona law involves checking the immigration status of someone already detained by police.
Federal law requires the government to respond to requests from state and local police concerning a suspect's immigration status. But Mr. Verrilli said that requiring the same action in the context of the Arizona provision amounted to an attempt by the state to enforce federal law.
"Under the Constitution, it's the president and the executive branch that are responsible for the enforcement of federal law," he said.
"It's not an effort to enforce federal law," Chief Justice John Roberts replied. "It is an effort to let you know about violations of federal law. Whether or not to enforce them is still entirely up to you."
Later the chief justice commented: "It seems to me that the federal government just doesn't want to know who is here illegally or not."
---