Judge wants answers about $200,000 'Real George Zimmerman' defense fund
George Zimmerman, charged with second-degree murder in the Trayvon Martin shooting, received a $150,000 bond after his family claimed meager means. What the court wasn't told was that Zimmerman had $204,000 in a PayPal account.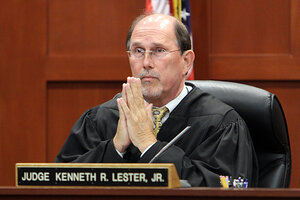 Red Huber/Orlando Sentinel/AP
Mark O'Mara, the attorney representing George Zimmerman, told the judge in the Trayvon Martin shooting case Friday that his client had much more money on hand than he had revealed to the court at his bond hearing on April 20.
Mr. Zimmerman, a neighborhood watch volunteer, stands accused of second-degree murder for the shooting of Trayvon on Feb. 26, which led to a national uproar after local police originally declined to file charges.
At the bond hearing, Zimmerman's parents said they had few means to raise the $15,000 necessary to pay a bail bondsman to post a bond to free Zimmerman, who left prison on April 22 with a GPS anklet. But at the time, Zimmerman had at least $150,000 that he had gleaned from a website called The RealGeorgeZimmerman.com.
Given that revelation, prosecutor Bernie de la Rionda asked US District Judge Kenneth Lester to reexamine the bond arrangement. Judge Lester asked Mr. O'Mara to compile a list of donors and when they made their payments.
"I may have authority or I may not," Lester said. Lester could potentially adjust the bond or revoke it altogether, meaning Zimmerman would have to go back to jail to await trial.
The revelation came as Florida prepares for its most high-profile trial since the Casey Anthony trial last year, in which a mother accused of murdering her young daughter was found not guilty in Orlando, about 30 miles from Sanford, Fla., where Zimmerman shot Trayvon Martin, an unarmed black teenager, on Feb. 26.
While civil rights activists rallied with Trayvon's family to have Zimmerman arrested, others donated to Zimmerman's defense, which may cost as much as $1 million.
---