The unusual confessor who broke the Etan Patz cold case
Killing Etan Patz in 1979 may have been the only time alleged killer Pedro Hernandez hurt someone. While he avoided detection for 33 years, the secret took enough of a toll that Hernandez broke down in tears as he confessed, appearing remorseful and 'relieved.'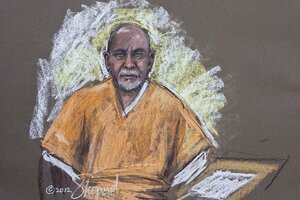 Shirley Shepherd/Reuters
After New York police dug into a SoHo basement in April searching for the remains of Etan Patz, a 6-year-old New Yorker who disappeared on May 25, 1979, Pedro Hernandez did something very unusual, family members told the press: He called his sister in New York, to talk about the case.
Working off a tip from an unnamed source, New York police on Friday arrested and arraigned Mr. Hernandez. It was the 33rd anniversary of the day when the tow-headed Etan, lugging a backpack painted with cartoon elephants, disappeared as he walked alone to school for the first time. The subsequent search for Etan sparked national "stranger-danger" fears and turned May 25 into the federally-recognized National Missing Children's Day.
The man who had allegedly kept a sinister secret for 33 years broke down during a 3 ½ hour interrogation on Wednesday. He appeared both remorseful and "relieved," New York detectives said.
RECOMMENDED: How one man stopped a child abduction, and six other heroic acts
According to police, Hernandez, then an 18-year-old stockboy at a SoHo bodega, said he lured Etan into the basement with a soda, then strangled him and put the body into a plastic bag, which was then presumably taken to a city landfill. Hernandez told police that he realized Etan was "the one" after feeling an "urge to kill."
While little is known about Hernandez, the story given so far by police is peculiar, experts say, for several reasons, including the apparent lack of sexual assault motive and the fact that Hernandez, described by some as shy and standoffish, appears to have retreated from the act into a quiet middle-class existence in New Jersey, perhaps never hurting anyone again.
---