George Zimmerman back to jail for 'falsehoods.' Will they influence trial?
The judge in the Trayvon Martin case revoked George Zimmerman's bond and ordered him to jail after prosecutors showed he had lied about his personal finances during his bond hearing.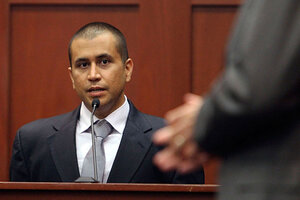 Gary W. Green/Orlando Sentinel/AP/File
After seeing public opinion gradually swing his way over the events of Feb. 26 in Sanford, Fla., George Zimmerman's already tentative credibility took a hit as Circuit Court Judge Kenneth Lester ordered him back to jail for lying at his bond hearing in late April.
Accused of murdering unarmed teenager Trayvon Martin, Mr. Zimmerman had posted a $150,000 bond in April after declaring, through his lawyer, that he was out of work and basically indigent. His parents, too, said they had little money.
But a few days later, Mark O'Mara, Zimmerman's attorney, told Judge Lester that Zimmerman's financial situation wasn't as dire, as he had raised nearly $200,000 through his "The Real George Zimmerman" website.
While Mr. O'Mara pointed to the discrepancy as an innocent mistake, prosecutor Bernie De La Rionda pounced on the misdirection on Friday, saying it – together with Zimmerman's failure to tell the court about a second passport in his possession – was evidence that he deserves to await trial in a jail cell.
"I don't know what other words to use [about how much money Zimmerman had] besides that it was a blatant lie," Mr. De La Rionda said.
O'Mara on Friday argued there was "no deceit" involved since the pair did not use the money for anything.
---