New Jersey Muslims sue NYPD to end surveillance
The plaintiffs say the NYPD's program to monitor Muslims on the basis of their religion is a constitutional violation. The NYPD says it's a necessary safeguard against future terrorism.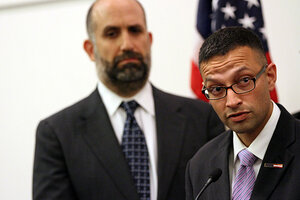 Mary Altaffer
After the Associated Press revealed that the NYPD was conducting surveillance of Muslims on the basis of their religion, legal scholars immediately began to debate whether the NYPD's program was a violation of the First Amendment. Now, the issue is set to be heard in a federal courtroom in New Jersey.
A group of New Jersey residents, mosques, and organizations on Wednesday filed a federal lawsuit against the City of New York, accusing the NYPD of violating their constitutional rights by targeting them for surveillance outside of mosques, in Muslim student group meetings, and at religious schools on the basis of their religion. The lawsuit could help define how far investigators can go in the name of national security.
"The facts are just so compelling, what the NYPD is doing is egregious. It may be going on in other law enforcement agencies, but the AP reports are a smoking gun that they are targeting people based on religion," says Glenn Katon, legal director of Muslim Advocates, a California-based nonprofit that is representing the plaintiffs.
So far, the NYPD's tactics have included sending an officer on a student whitewater rafting trip to note how frequently participants stopped for prayer, taking down the license plate numbers of cars parked at mosques, and noting patrons and employees in shops catering to observant Muslims.
Police Commissioner Ray Kelly has said that police need to do this type of work in a post-9/11 world. In a statement, NYPD Deputy Commissioner Paul Browne referred to New Jersey Attorney General Jeffrey Chiesa's determination that the surveillance efforts were legal. Mr. Browne added that "NYPD activities in New Jersey were lawful, appropriate, and in keeping with efforts there, in New York, and around the world to prevent terrorists from returning here to kill more New Yorkers."
---